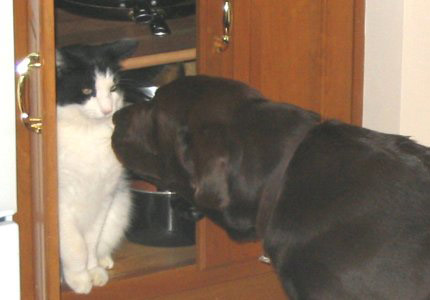 Wally & Hank, 1 year old & 7 years old
from Greenwood, IN
Sent in by Madeline B.
Wally is a year old chocolate lab we got from the lab rescue program in Muncie, Indiana. Hank is a 7 year old cat we brought with us when we sold our farm and moved to the city. After a certain period of adjustment, they are now friends and enjoy playing together. Hank, who still has his front claws, lets Wally know when he is tired of playing. Wally, in his spare time, likes to role play. In this picture he is playing "Easter Bunny".
Discuss this photo
Send us a photo!